Free Shipping for domestic orders
High Quality Essential Oils at A Reasonable Price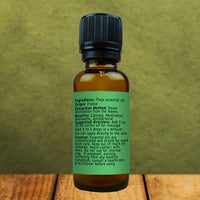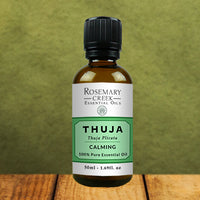 Thuja Essential Oil
Thuja essential oil has an exceptional calming and meditative effect, perfect for calming the mind and for meditation. It is also very effective in purifying the air and protecting the skin.
BOTANICAL NAME: Thuja Plicata
Sick Building Syndrome Killer
Outstanding, quality product for cleaning. Per the National Center of Biological Information, Thuja Plicata kills Sick Building Syndrome. Kills most insects/parasites, too. This is the only quality Thuja Plicata that I have found on the market. I have been using it for over 1 1/2 years. I use it in the washer and on the dryer sheets, too. I order the large 16 oz bottle and have it in spray bottles throughout my home. I also use it to freshen/disinfect furniture. I do not use junk Febreze or toxic ammonia. Thuja Plicata also cleans air well in the diffuser. Superb product, and Rosemary Creek also has exceptional Customer Service!
Product Info

This Thuja essential oil is from the genus Thuja plicata. Also known as Western Red Cedar and Red Cedar it is different from Canadian Red Cedar. Thuja essential oil can be distilled from the bark or the leaves, resulting in essential oils having different colors and properties. Our Thuja essential oil is steam distilled from the leaves and branches and is clear in color. Look carefully what Thuja essential oil you need.

Uses for thuja essential oil include: its calming effect, for purifying the air and for the skin. The strong scent is clean, sharp, fresh and camphor-like.

Thuja was the preferred wood for use in carving totem poles because of its soft texture among many indigenous cultures. It has the lightest weight of the conifer woods. It resists decay and destructive insects. It was also used as skincare product for its antiseptic and antibacterial properties.

Calming and Meditative

Because Thujone is a natural sedative, its aromatic effects are said to regulate body rhythms. In a spiritual sense, the aroma of thuja may reset the body's energies, releasing stagnant energies of the heart which brings about a feeling of renewal. The feelings of release of renewal brought about by thuja's scent calms both the conscious and the unconscious mind.

It is well known that oils from trees, especially Spruce, Cedarwood and Palo Santo provide a greater sense of well-being. This makes thuja helpful in releasing fears that may hold one back from advancing in the spiritual work on their life path that is buried in the unconscious or present in the conscious.

Effective Air Purifier

Because of its pleasant aroma, thuja essential oil is effective as a natural deodorant and may be used in spray cleaners and insecticides. It may also be used to substitute mothballs by placing a few drops on a wood chip or cotton ball and placing them away from clothing in closets and dressers.

Also, because of its pleasant aroma, thuja essential oil is great in homemade diffusers and vaporizers. Its insecticidal property also helps repel various insects.

Thuja essential oil is also the perfect oil to add to scented candles and soaps.

Skin Care

Care must be taken when using Thuja essential oil for skin care purposes. Please see the "Caution" section below before using it for any purpose, but especially for purposes involving the skin.

Thuja essential oil has very strong disinfecting properties. It is antiseptic and antibacterial, and it can be used for homemade cosmetics. It nourishes the skin and is known to help with rheumatism, psoriasis, skin growth, rashes and warts.

Thuja essential oil is great for treating hair loss. It works well in hair care products which also makes it a terrific choice for beard oils.

Although Thuja essential oil has uses for the skin it should not be applied directly onto the skin unless diluted or under the supervision of a qualified, expert practitioner.

Chemical composition of the Thuja (Thuja Plicata) essential oil

The main compounds of this Thuja Plicata essential oil are:
_ Alpha Thujone
_ Beta Thujone
_ Sabinene
_ Alpha pinene
_ Limonene
_ Myrcene

Suggested directions.

The best way to use the Thuja essential oil is by diffusion. For meditative purposes and purifying your house, add 3 to 5 drops in a diffuser. You can also add few drops on a cotton ball and place it in your closet.

For massage, add 5 to 10 drops to a carrier oil, such as coconut oil or almond oil. Do not apply undiluted directly to the skin.

Do not absorb this essential oil orally. It is toxic and can provoke convulsions and hallucinations.

Thuja essential oil mixes very well with myrrh, rose, citrus, grapefruit, black pepper, and cedarwood essential oils.

Additionnal information:

Botanical Name: Thuja Plicata
Common names: Thuja, Western Red Cedar, Red Cedar
Extraction method: Steam distillation
Color: Clear
Appearance: Liquid, mobile
Country of origin: France
Botanical family: Cupressaceae
Plant part used: Leaves and branches
Odor: Thuja, Sharp, Fresh

Caution:

Essential oils are concentrated and should be used with caution. Keep out of reach of children.

Avoid contact with the eyes.

As Thuja essential oil contains thujone, it may cause irritation of the skin without proper diluting. Use on the skin can be toxic and can cause discomfort near eyes and mucus membranes. A 5% dilution ratio with a carrier oil, such as vegetable oil, is recommended. Additional dilution may be necessary due to the toxicity caused by the high thujone content.

Also, thujone is toxic. It causes convulsions and hallucinations. Do not ingest.Thuja essential oil should not be taken internally unless recommended and supervised by someone who is qualified.

Do not use if pregnant, nursing, elderly and for children under 7 years of age. If suffering from any medical condition, consult a healthcare practitioner before using.

Do feel free to ask for further information and applications.

DISCLAIMER: Essential oils are not meant to cure diseases and illnesses. They may ease some health problems and bring comfort. We suggest you consult a physician and do your own research for each essential oil that interests you.

To get more safety information, read our article about the risks of using essential oils.

Brand:

Rosemary Creek Essential Oils